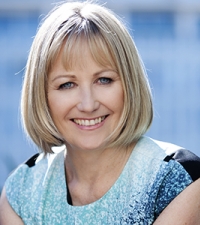 My current job is.. ANZ Managing Director Fox Networks Group and National Geographic Partners.
My first job was.. I had two as a university student a) writing cue cards for Perfect Match and b) logging the overnight global news feeds for the International Editor ABC TV News. Both belonged in a pre-digital era.
At school I was known for.. Being a voracious reader and day dreamer
The TV show I can't miss is.. Right now it's Legion, The Walking Dead, Billions, and great archival docs on topics such as OJ and Trump's Rise to Power. I am seriously excited about Nat Geo's Jane Goodall doco later this year.
My secret guilty pleasure is.. Reading for pleasure not work. Plus a Melbourne only shoe shop I've found.
It's not cool but .. I get newspapers delivered: the thud of their arrival is my alarm clock.
Friends say I.. am driven.
The advice I would give to young women in the industry is … avoid generic advice, but if you insist: embrace feedback, invest in yourself, acknowledge your career is a journey, understand what motivates and energises you, know your boundaries….
The thing I most love about our industry is.. it covers my passions for storytelling and the business of storytelling. I would like more collaboration, connection and community as we embrace the opportunities of digital disruption which actually defined the start of subscription TV.