Aurora Community Channel (known to viewers as Aurora), launched in March 2005 exclusively on Foxtel and is Australia's first and only national community channel. Aurora is a subscription channel featuring 100% Australian made content with a focus on programs from community and independent producers.
Aurora is a not for profit organisation based in Sydney's Ultimo with a small, dedicated team.
The channel utilises the transmission facilities of Innovations Park Studios whilst Foxtel is a long standing and valued partner that provides the all-important broadcast platform.
'Eclectic Aussie Seeker' is a term used to describe Aurora's fan base; they are adventurous, curious and willing to try something new. Whilst targeting all people, Aurora enjoys a diverse spread of viewing ages and demographics with a slight male skew.
Programming Highlights:
Jukebox Saturday Night – a perennial favourite with music lovers of all ages. Ken Sparkes brings to life some great memories and music. And it's one of those shows with must-watch credits!
Ladies Gridiron League – kicking off in November, the LGL is the first of its kind in Australia, with teams from every state. Get behind your local team and support our newest sporting superstars.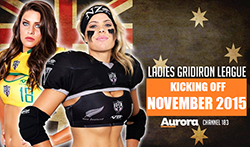 Ethnic Business Awards – join Tracey Spicer for the 27th annual Ethnic Business Awards, judged by some of Australia's leading business lights including Carla Zampatti which celebrate multiculturalism and diversity in Australian business.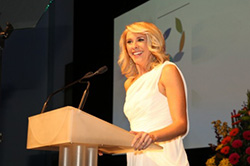 Apex Teenage Fashion Awards – Melbourne today, Milan tomorrow! See some of Australia's freshest fashion talent from schools Australia-wide in a showcase of fashion and fun!

Street TV – to support this important initiative between Foxtel and the Salvation Army, Aurora is proud to screen the 2015 series of short films. Screening throughout October and November
Focus On Ability Short Film Festival – to mark the International Day of People Living with Disability in December, we are proud to partner with Nova Employment to screen this annual film fest