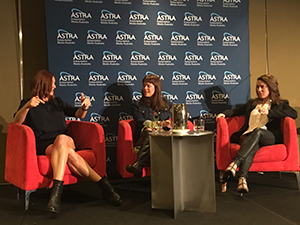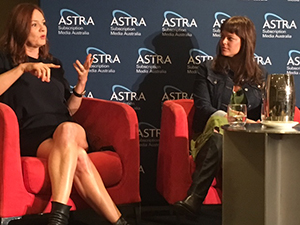 Speakers:
Josie Mason Campbell
Head of Production & Development
Foxtel
Josie joined Foxtel in May 2013 and is now the Head of Production and Development. In this role she is responsible for overseeing the editorial and creative output of local production across the Factual, Lifestyle and General Entertainment genres.
There are currently over 30 local shows in production made by a diverse group of production companies. This includes entertainment series such as Australia's Next Top Model, The Real Housewives of Sydney and original Australian format, The Recruit, to factual shows like Coast, Crimes That Shook Australia as well as lifestyle shows; Gogglebox, Grand Designs Australia, Selling Houses Australia and Great Australian Bake Off, to name just a few. Excitingly, this year sees the launch of improvisational comedy show Whose Line Is It Anyway Australia?.
Prior to joining Foxtel, Josie was a Freelance Producer and then Executive Producer. Over the years she has worked for most of the major production companies and produced shows for Networks 7, 9, 10, ABC, SBS and Foxtel. Josie's career in TV followed a stint in the theatre industry, and began when she produced and directed her own documentary for the ABC, THE DALTON SISTERS.
Matilda Brown
Writer Director 'Lets Talk About'
Presto
Matilda began her film career at 15 as the lead in the SBS short film Martha's New Coat. She is a graduate of Film and Television at Swinburne University and Screenwriting at RMIT. She wrote, directed and starred in her first film, HOW GOD WORKS, which was a Tropfest finalist in 2010 and screened nationally in the US. She followed this with COCKS, ONE THING (Tropfest 2012) and AM I OK (2011) which aired on SBS and opened the 2012 St Kilda Film Festival. As an actress Matilda has worked with some of Australia's most established directors and producers on projects including UNDERBELLY (2009), RAKE, OFFSPRING, BEE STING (2010), COCKATOO (2011), THE PEOPLE SPEAK and IMOM (2013). She won best actress awards from international film festivals for her roles in MARTHA'S NEW COAT, COCKATOO and best film for AM I OK. Matilda's LESSONS FROM THE GRAVE, a television short series she wrote, directed, produced and starred in, aired on ABC 1 in 2013 (series one) and 2014 (series two). It was also picked up by Qantas in flight entertainment and most recently acquired by Presto. In 2014 she was shortlisted for the Heath Ledger Scholarship. Last year she wrote and directed LET'S TALK ABOUT, a 10 part drama comedy series about being up the duff in a relationship that's only just begun. The series was commissioned by Presto (channel 7 and Foxtel's on demand platform) and stars herself, Richard Davies and Bryan Brown. She has just finished shooting series 2. Earlier this year she directed THE CARAVAN, a 7 part short series written by Richard Davies and produced by the Offspring team available on the channel 10 Play website and stars opposite Xavier Samuel and her mother Rachel Ward in the feature film THE DEATH AND LIFE OF OTTO BLOOM.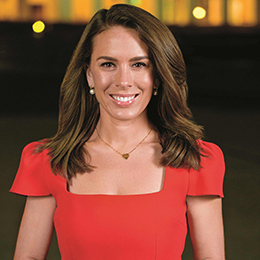 Laura Jayes
Political Reporter and Anchor of The Latest with Laura Jayes
Laura Jayes is Political Reporter at SKY NEWS and anchor of prime time current affairs program The Latest with Laura Jayes, airing weeknights at 6:00pm AEST on SKY NEWS LIVE.The Latest with Laura Jayes goes beyond the obvious stories of the day with unique insight and analysis on the issues affecting the nation. Taking a fresh look at the day's news, Laura tackles issues not on the mainstream agenda with key interviews with the main players.
Laura joined SKY NEWS in 2006 before being appointed Brisbane Reporter. In 2011 Laura moved to Canberra to take on the role of Political Reporter before returning to Sydney in 2014. In January 2016 Laura joined the SKY NEWS prime time weeknight line-up as anchor of The Latest with Laura Jayes. A well connected press gallery journalist, Laura has covered the 2012 and 2013 Labor Leader leadership challenges, 2015 Liberal leadership challenge, three Federal Elections and the Queensland 'Newman Landslide' election and regularly interviews cabinet and shadow cabinet ministers.She has also reported on Brexit LIVE from London, the Queensland floods, the war in Afghanistan from Kabul, Kandahar and Tarin Kowt and travelled with Prime Minister Gillard on trips to India and China - covering and reporting on the progress of two of Australia's most important international relationships.