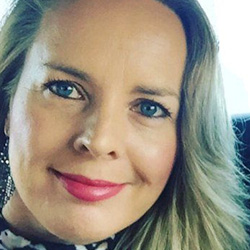 Christina Allen is the General Counsel and Company Secretary of FOX SPORTS Having joined the company in 2000. Christina is a member of the FOX SPORTS senior executive management team and leads the Legal & Regulatory team comprising of 6 other in-house legal advisers and 1 assistant.
With over 20 years legal experience working in-house and in private practice, Christina advises FOX SPORTS on legal and regulatory matters such as anti-siphoning and complex commercial transactions such as FOX SPORTS' channel distribution agreements as well as its acquisition of premium sports rights, a career highlight being the NRL rights deal in 2015. In 2016, Christina was a Finalist for In-House Lawyer of the Year at the 2016 Australasian Law Awards and features in Doyles Guide as one of Australia's leading in-house Technology, Media and Telecommunications lawyers. Christina's team were also finalists for the Australian In-House Team of Year at the 2016 Australasian Law Awards and the inaugural Lawyers Weekly Corporate Counsel Awards 2017 for Australian Sports and Entertainment Team of the Year.
Christina began her legal career at leading entertainment & media law firm, Tress Cox and was involved in providing advice to a range of clients including XYZ Entertainment Pty Limited and East Cast Pay TV Pty Limited, both of which played an integral part in laying the foundation for the Australian subscription television industry in the mid-nineties.
Christina holds a Bachelor of Arts and Bachelor of Laws degree from Macquarie University and is a fulltime working mum with 2 children and a very supportive husband.