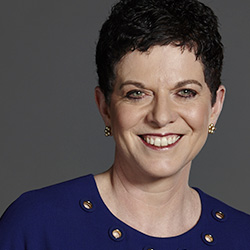 Deanne Weir is Managing Director of Content Aggregation & Wholesale at Foxtel. Deanne Weir has more than 25 years' experience in media and communications. A former corporate lawyer, Deanne is an experienced leader, strategist and communicator, with a deep interest in how new forms of media affect business and society.
In addition to her role at Foxtel, Deanne chairs the boards of three private companies including Hoodlum, a BAFTA and Emmy award winning production company, and Ai-Media, a global innovator in speech-to-text services for broadcast and education. Deanne is Chair of the Australian Women Donors Network and a board member of Playwriting Australia, the Sydney Film Festival and The Grata Fund. To all these positions, Deanne brings her experience gained from long-term legal, content, policy and strategy roles in subscription television and telecommunications at Telstra and AUSTAR.
In 2012, Deanne Weir and her husband Jules Anderson founded the WeirAnderson Foundation, a Private Ancillary Fund with a particular emphasis on projects that will improve the lives of women and girls. The Foundation is focused on gender lens investing and Deanne is a member of the global moment, Women Moving Millions.
In 2016 Deanne was a finalist in The Australian Financial Review 100 Women of Influence awards.